So, business is booming, and it's time to show your supervisor or board of directors exactly what you've been doing to crush it. For decades, the standard for business presentations, proposals and board meetings has been creating a splashy Microsoft PowerPoint deck. After all, if a picture is worth a thousand words, some killer graphics and slick PowerPoint animations must be worth double that, right? Wrong.  
Think of all the PowerPoint presentations you've watched throughout your career. How many slides actually stuck with you? Probably not many. The ironic part is that the only thing more miserable than sitting through one of those marathon PowerPoint decks is actually creating one. Fortunately for you (and your board), there are new platforms available that make presenting and displaying information to your audience much easier, less time-consuming and more visually appealing.
Here are a few of our favorite best practices for building a compelling deck and some emerging tools you can use to get the job done.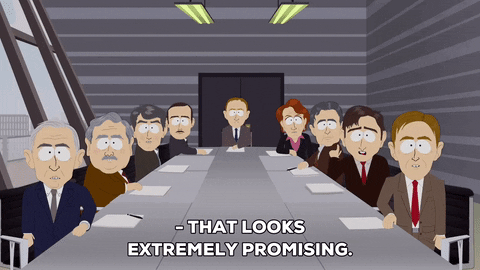 Tips for Presentation Content and Design
When it comes to a presentation, less is more. No matter what platform you select to build your deck (more on that in a bit), the last thing you should do is cram every slide with walls of text. Instead, stick to bullets that succinctly deliver the most salient points you want to deliver and use your words to expound with details.
You should also know that the "less is more" theme continues on the visual front as well. Instead of utilizing a variety of fonts, colors and headline sizes, choose one of each and stay consistent. Not only will this give the deck more of a professional look, but a deck lacking consistency is visually jarring—and not in a good way.
Reimagine Your Presentation with Canva
Perhaps the most popular alternative to PowerPoint—and certainly one of the most straightforward and intuitive to use—Canva has revolutionized how professionals present information and graphics. Citing megabrands like McKinsey & Company, PayPal, Gucci and Sony Music as customers, Canva caters to millions of professionals across the globe each month. And it's easy to see why.
Canva touts an assortment of user-friendly features, including thousands of customizable templates and the opportunity to seamlessly incorporate video and imagery. Ease of use is also another big perk for Canva, as it empowers users to send the deck for editing or review via web link instead of having to upload a massive file into a file-sharing program like with PowerPoint. Canva's Brand Kit also enables you to upload logos, fonts and colors, applying your entire brand identity to a deck with just a few clicks. In terms of pricing, Canva offers a free version for individuals and small teams, with Pro and Enterprise versions also available at a cost.
Here's an example of how Canva blows PowerPoint out of the water for design. Click to view;
Don't Build a Deck. Create a Zeck.
Zeck is another popular tool today's professionals are using to transform board decks into "an engaging and time-saving interactive website." The brand even promotes the catchy, tongue-in-cheek hashtag #DeathToBoardDecks.
Zeck is especially impactful for professionals that share presentations across email without an accompanying talk track because it thrusts the deck's most important information to the surface. Instead of having to thumb through slide after slide, viewers simply peruse a website-like presentation, leading to increased engagement and decreased boredom. Creators have complete control over who can access what information, and viewers can collaborate and engage with the content by leaving quick reactions or long-form feedback. This innovative new way to present saves your team time, doesn't require developers or designers, and helps you avoid delivering an unfocused deck. To learn more and experience a demo, reach out to the Zeck team.
If you must use PowerPoint, you must do this
We know that PowerPoint is mandatory for some of you, and that's OK. But if you're going to stick with the old guard, you should at least update the resolution. The legacy 4:3 slides we all grew up on were intended for monitors and displays that were square. Modern displays are considerably wider, which means your slide resolution should be as well. Go with a 16:9 resolution for optimal viewing. And don't forget to stick to the best practices we mentioned above, avoid distractions like animations and use high-quality images to liven up the material.
About the Author
Stacey Harrison is the lead brand strategist and designer at Heart & Hustle Brands and has provided creative direction for healthcare, industrial, and financial services brands for 20 years. She started Harrison Creative Group in 2017 to serve businesses that need a professional brand image on a budget. In 2021, the company rebranded to Heart & Hustle Brands to walk in the shoes of clients that experience a change of name or brand refresh.